(Approved version: 2018)
Level 1
Overview and Aim of Workshop
About Ross Emmett
EMMETT Principles
The Chameleon Club – the 7A's (subconscious triggers for healing)
Forearm – People
Spinal Balance
18th Rib/QL Lumbar
18th Rib/Hip
SCM – People
Neck
Hamstrings
18th Rib/Inguinal
Withers
Shoulder/45
Level 2
Review of Level 1
Latissimus Dorsi – People
Latissimus Dorsi
Deep – Pec/Forearm
Iliacus Oblique
18th Rib/Psoas
Pectoralis minor release – People
Sacral/Hip
18th Rib/Gluteal
Stifle
TFL
Level 3
Review of Level 2
Gastroc – Calf release – People
Upper Neck
Thigh
Gaskin
Hock
AC/Biceps – People
Scapula
Scapula – A
Scapula – B
Scapula – C
Coccyx
Triceps
Level 4
Review of level 3
Sartorius/ITB release – People
Jaw – general flexion
Superior Stifle
16th Rib/Lower hip point
Chest/45
Hip/Lumbar/Wither
Calcaneus – People
Dorsum – People
Tendon release
Deep shoulder/Loin
Rib/Dock release
Level 5
Review of Level 4
Recovery – People
Recovery
Deltiod/Subscapularis
Jaw
Hyoid
Latissimus/Abdominal Oblique
Deep Longissimus
Spinal Tap
Pectoralis release foreleg
18th Rib/Tuber Coxae
Level 5 Review/Accreditation
Review of Level 5
Assessment of application of the technique
Is this the course for me?
This course is suitable for all complementary therapists, Veterinary professionals, coaches or instructors interested in expanding their therapeutic skills. These include:
Massage therapists
Chiropractors
Physiotherapists
Veterinary Surgeons
Veterinary Nurses
Osteopaths
Bowen therapists
Farriers
Equine Podiatrists
Barefoot Trimmers
Saddle fitters
Animal Body Workers
Riding Instructors/Coaches
Grooms
But don't let that impressive list of professionals put you off because undergraduates and non-therapists are also welcome to attend. There are no pre-requisites and the instructors approach each class as if everyone has the same very basic knowledge, so it's easy for everyone to keep up with the learning!
Although there is no case study workload, students are encouraged to maintain a reflective journal as a way of self-evaluating their accuracy and process towards creating successful outcomes for clients.
The main complementary therapy insurance companies will cover EMMETT Technique practitioners and students within their existing insurance policies.  Please refer to your insurance company for confirmation.  We can guide you to an insurance company if you need assistance obtaining insurance.  At the end of training, EMMETT Practitioners are expected to have Professional Indemnity Insurance.
What will I learn?
You will learn how to apply the EMMETT Technique and how it was developed. You will learn to quickly and effectively assess the areas of tension in your client's body and how to locate the appropriate EMMETT point requiring desensitisation.  Participants typically comment on how much their anatomy knowledge and understanding deepens as they progress through the course.  The following areas of the body are focused on as these are commonly presented by clients: core muscles, lower back, thoracic back, shoulder, lower legs, foot balance, and symptoms such as decreased flexibility, lack of impulsion and body dis-ease. You will also learn and about the "Chameleon approach" that makes it EMMETT so powerful.  This includes special language skills and how to apply anchors to promote positive outcomes. 
How will I be assessed?
Students are supervised during practice sessions and extra assistance will be offered where required, so all students will become competent and confident with the moves.  Each move will be revised at least once within the context of the training sessions.  A written and practical assessments is offered at the final stage of training at Level 5 Review and a Certificate of Proficiency will be awarded when a pass is achieved.  This qualifies the participant as an EMMETT Technique Practitioner for Horses. Assessment is optional. A Certificate of Attendance is provided where the student chooses not to be accessed.   Although there is no stated number of case study hours required students are encourage to record their experiences in a reflective-learning journal and ask questions which can be shared and raised at the following level.
Is there a requirement to attend EMMETT CPD?
Once a student has achieved EMMETT Technique Practitioner status, their basic business contact information is listed on this website as a Practitioner so the general public can search for a local practitioner. To remain listed on the website, the Practitioner is required to attend 8 hours of EMMETT training within a 12 month period from July 1 – June 30 of the following year.  The CPD hours are optional and are only required for continued website listing.
Will I be able to use EMMETT with my current therapy?
Definitely, for sure, absolutely!!! Students are encouraged to incorporate the EMMETT Technique with their current skills and not "throw the baby out with the bath water", thereby enhancing the value of their existing skills.  One of the benefits of the EMMETT Technique is that it provides therapists with complete freedom to integrate the technique with what they know or, under certain circumstances, to use it exclusively.
How does it differ to the Bowen Technique?
Despite the similarities between Tom Bowen and Ross Emmett, the EMMETT Technique is NOT a Bowen Therapy nor a derivation of it.  Developed long before Ross was introduced to Bowen Therapy, the EMMETT Technique is a unique form of body therapy. There is no skin slack; there are no prescribed procedures and only a few set sequences; instead therapists are encouraged to respond to the client moment by moment. The EMMETT Technique uses quick assessments, specific language and other anchors to encourage positive change. Overwhelming feedback from Bowen Therapists is that the EMMETT Technique has transformed their practice; in particular the speed with which they can effect change for their clients, dramatically improving their results and professional reputation.
Can I use the EMMETT training days as Continued Professional Development?
This will depend on which professional body you have membership of.  If you contact your own association and enquire whether you will be allowed to claim CPD. EMMETT Therapies UK is happy to help by providing them with information about the course for them to evaluate.
Veterinary Act
The Veterinary Act (1966) states it is illegal for any person, other than the owner of the animal, to treat an animal unless the permission of the animals Veterinary Surgeon is sought and obtained. Therefore to protect your horse's welfare veterinary consent (written or verbal) must be gained prior to Emmett therapy. The EMMETT Technique is an allowable therapy with the RCVS.
Course fees are due in full at least 3 weeks prior to the course start date. Course fees paid within 3 weeks of the course will attract a higher fee. All bookings are subject to a non-refundable element due at the time of booking.
Each two-day Practitioner course has a GBP 300 Early Bird fee. Fees paid within 3 weeks of the course date are charged the Late fee of GBP 340. The non-refundable element is GBP 60.
Each one-day Practitioner course has a GBP 150 Early Bird fee. Fees paid within 3 weeks of the course date are charged the Late fee of GBP 170. The non-refundable element is GBP 30.
When a student chooses to repeat a Module, having already taken and reviewed it, they may repeat any individual Module or any individual day for half price.
The course fees are applicable for both the EMMETT Technique Practitioner Course and the Advanced EMMETT training.
For workshops conducted in Ireland, Euro payments are accepted to the equivalent GBP  value.
Course dates and venues are subject to change. Please keep this in mind when booking transport and accommodation.
Refund and Cancellation Policy:  Cancellations made 21 days prior to a workshop will receive a full refund (minus the non-refundable element from April 1st). Cancellation fees will be calculated at 50% of the course fee if cancellations occur within 20 – 2 days (48 hours) of a workshop. No refund will be given for cancellations within 48 hours of a workshop.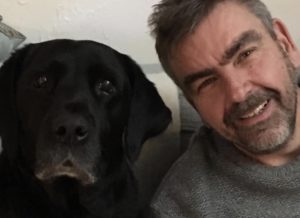 I originally booked on a one-day introductory horse course with Tony Sherry. I don't ride so it was more to keep my daughter company. As a family we have owned horses for over 20 years.
As a dad I was the driver, held the horse and handed over the money over. You've got the idea; a pony club dad. So this course appealed to me as it offered the potential to save some money on treating our horses. There were six horses on the yard so potentially a huge saving.
I suffered from a debilitating neck injury that over time, with over-compensating muscles, I was in constant pain. I had plantar fasciitis and the daily pain level was 8 out of 10. During the day I mentioned to Tony that I was in pain and asked if they could help, throwing down a gauntlet really. I didn't believe this would work as I had been to GP's and medical specialists, who gave me a few exercises and basically wrote me off.
So, within 10 minutes of a few light touch moves on my muscles I was swaying around, re-setting my balance and body, balancing correctly on my heels, standing more upright. Apparently my face was a picture. However, what was amazing was that my pain level had dropped to around two out of ten. This not only had a huge impact on my pain, but my psychological outlook has now changed. I had been in so much pain for 15 years and I simply needed to be re-balanced. Yes my underlying problems were still there, but I had my life back. I can cope so much better now having a positive outlook on life. You may not realise just how much pain you are experiencing until it's lowered to a manageable level.
The next step for me was a natural one. I started the horse course, then moved on to learning how to treat humans and dogs. I realised that releasing the fascia and muscles can have such a huge impact on your quality of life. As a practitioner in horses, humans and dogs I have had some amazing results.
I can highly recommend EMMETT therapies. If you are concerned that you don't know enough about anatomy then don't worry.  Tony teaches all that in a fun and interesting way. If you think you will feel left out because others know more than you then don't worry. Within five minutes you're all having fun. Tony is an inspirational instructor and makes the learning sessions fun.
EMMETT courses have changed many people's lives for the better.
In any form of health treatments there are no guarantees, but I can guarantee one thing. By the end of the day you will be hooked on EMMETT and want to learn more.
Ian McClumpha – EMMETT Practitioner
"I stumbled upon Emmett4Horses and Tony Sherry by chance while looking at equine massage courses and signed up for the one day short course.
I had already been a certified equine body worker for some 6 years (Masterson Method) and thought I'd look at Emmett, though I was a little sceptical about how much the methods would add to my existing toolbox and how effective the moves would be. One thing that appealed was that human techniques are taught alongside the equine techniques and the idea is that Emmett can help both the horse and the rider at the same time.
In the event, it was a real eye opener – not so much with the horses, but with the treatment Tony performed on me.
I have osteoarthritis in both hands and it's difficult to close my hands. After 5 minutes of Tony using Emmett techniques on my hands I was able to make a fist for the first time in years, with no effort or discomfort! (It's now been over a week since the course and my hands are still as flexible and there has been a significant reduction in discomfort).
So, I'm fairly convinced that if Emmett can have that effect on me there's every chance that it will have an equally beneficial effect on horses and so far my own horses seem to enjoy the few moves I've been taught and there is a visible improvement in their way of going. I'm definitely signing up to do the Emmett4Horse practitioner course and would thoroughly recommend looking at this great system.
Thank you Tony! "
Bern Easterford – Introductory Course Student
If you would like to receive information on our Horse courses, please complete the form below.
You can unsubscribe at any time by clicking the link in the footer of our emails.
We use Mailchimp as our marketing platform.
By ticking the box at the end of the form to subscribe, you acknowledge that your information will be transferred to Mailchimp for processing.
Join a workshop and learn the EMMETT Technique!
Whether you are interested in horses or dogs, are an experienced therapist or simply wanting to learn some easy techniques to help your animal friends, there is a workshop just right for you.
Practitioner Courses.  These are extended courses for those wishing to add a professional qualification to their existing tool kit or for those wishing to train in EMMETT as their first therapy. They include:  The EMMETT Horse Practitioner Course and the EMMETT Dog Practitioner Course.
Introductory Short 1-day Courses.  These are primarily designed for non-professionals looking for some easy self-help techniques that can also be used to assist animals. They include: The EMMETT Horse Short Course and the EMMETT Dog Short Course. They are also an ideal low cost introduction for trained therapists to see what EMMETT is all about.
EMMETT Technique Practitioner Dog training is designed for qualified animal professionals, dog owners and anyone interested in extending their skills. The dog practitioner course is divided into two-day learning blocks, called Levels with 5 Levels in total. Material covered in the previous Level is reviewed before new work is covered. This ensures that all participants are up to date and ready to learn new material. The total course therefore consists of 11 days.
This course is recognised by the International Association of Animal Therapists and the Complementary Health Professionals (CHP).
Level Course Structure
Level 1 – Two days of learning both Dog and Handler corrections.
Level 2 – First day review of Level 1, second day new Level 2 work.
Level 3 – First day review of Level 2, second day new Level 3 work.
Level 4 – First day review of Level 3, second day new Level 4 work.
Level 5 – First day review of Level 4, second day new Level 5 work.
Level 5 Assessment -At Level 5 Review, a written & practical assessment will be offered and a Certificate of Proficiency will be awarded when a pass is achieved. This qualifies the participant as an EMMETT Technique Dog Practitioner. Assessment is optional. A Certificate of Attendance is provided where the participant is not assessed.
Further info
Levels are generally offered 6 – 8 weeks apart in any 1 location to allow participants to gain real experience with the technique between levels. Therefore, it is usually possible to complete the full course within 12 months. The course can be completed sooner if a student wishes to do so and is willing to travel.
Advanced EMMETT Training
At this time we do not have advance training for the canine course.
We are very proud of the instructing team. They do a great job in creating an enjoyable learning environment that has students hungering for the next level!  They are passionate about sharing EMMETT, have a very welcoming and friendly approach, explain and demonstrate clearly, and all have prior experience in teaching & instructing.
Tony Sherry
Senior Instructor and Director of EMMETT 4 Animals UK & Ireland.  Tutor of EMMETT instructors and tutors.
His previous experience was working as a Nurse and in Adult Intensive Care for over 20 years. He has been teaching the EMMETT Technique since 2014. Based in Kent, he teaches both equine and dog classes all over the UK and Ireland and has taught Internationally.
Click to Email
Tel: 07748 187 458
Alex Barrie

Trainee Instructor for Dog courses and EMM-Tech Tutor.
His background includes Personal Training. He has been teaching EMMETT since 2018. He is based in the Berkshireshire mainly teaches classes in that area.
Click to Email
Tel: 07795 650964
Claire Stone
Claire is an experienced Complementary Health Practitioner with a huge passion for her work and in  particular the EMMETT Technique.  She is a Certified Advanced Level 6 Practitioner, EMM-Tech Tutor and EMMETT Technique UK Instructor for people and dogs. And has a successful practise in Derby, where she offers specialist bespoke treatments incorporating EMMETT Therapy, Massage and ScarWork. Claire's teaching style is practical, fun, knowledgeable and down to earth, she has enormous passion for what she does and enjoys sharing and imparting this to others.
Click to Email:
Tel: 07908 254 175